OVERVIEW
Excellent Output Performance
The SPD3303C is robust and stable, and can accurately simulate even small voltage or current changes, fully meeting the power requirements of the load.
Ultra-high resolution: 1 mV, 1 mA
Excellent setting and readback accuracy to ensure accurate and pure output
Support panel programming and timing output
3 independently controlled and isolated outputs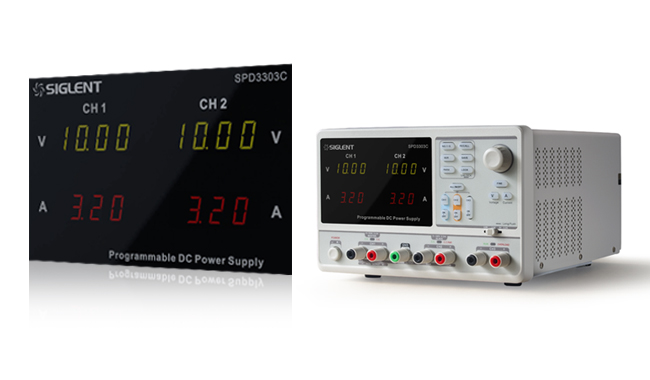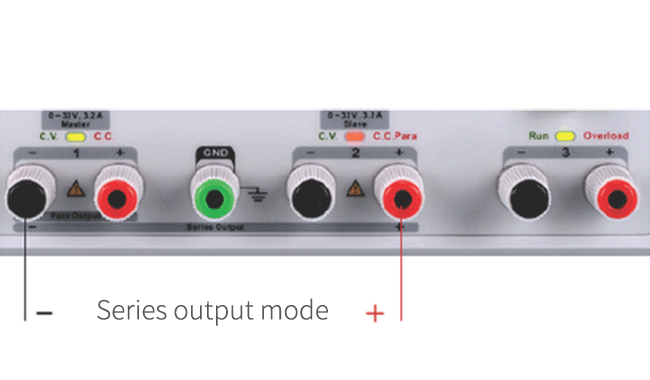 Series/parallel/independent Mode
The series-parallel function combines two power supplies into one power supply, which expands the output power range of a single power supply, which brings convenience in some applications. The three independent power supplies can individually control the output switch, and they can be turned on or off at the same time.
Specifications
---
Channel

CH1:0 ~ 32 V,0 ~ 3.2 A
CH2:0 ~ 32 V,0 ~ 3.2 A
CH3:2.5/3.3/5.0 V,3.2 A

Display

32 V full scale 4 digits 3.2 A full scale 3 digits LED display

Resolution

10 mV/10 mA
Constant Voltage Mode

| | |
| --- | --- |
| Line Regulation | ≤ 0.01%+3 mV |
| Load Regulation | ≤ 0.01%+3 mV |
| Ripple&Noise | ≤ 1 mVrms(5 Hz ~ 1 MHz) |
| Recovery Time | < 50μs(50% load change, minimum load 0.5A) |
Constant Current Mode

| | |
| --- | --- |
| Line Regulation | ≤ 0.2%+3 mA |
| Load Regulation | ≤ 0.2%+3 mA |
| Ripple&Noise | ≤ 3 mArms |
Parallel Mode

| | |
| --- | --- |
| Line Regulation | ≤ 0.01%+3 mV |
| Load Regulation | ≤ 0.01%+3 mV |
Series Mode

| | |
| --- | --- |
| Line Regulation | ≤ 0.01%+5 mV |
| Load Regulation | ≤ 300 mV |