| | | | | | | | |
| --- | --- | --- | --- | --- | --- | --- | --- |
|                           MODEL  | VOLTAGE | CURRENT | POWER | RESOLUTION | ACCURACY | INTERFACE | SIZE |
| IT-M3910D-10-1020 | 10V | 1020A | 10200W | 0.001V/0.1A | ≤0.03% + 0.03%FS / ≤0.1% + 0.1%FS | USB/CAN/LAN/digital I/O port, optional GPIB/analog & RS232 | 2 U |
| IT-M3905D-10-510 | 10V | 510A | 5100W | 0.001V/0.1A | ≤0.03% + 0.03%FS / ≤0.1% + 0.1%FS | USB/CAN/LAN/digital I/O port, optional GPIB/analog & RS232 | 1 U |
| IT-M3903D-10-340 | 10V | 340A | 3400W | 0.001V/0.01A | ≤0.03% + 0.03%FS / ≤0.1% + 0.1%FS | USB/CAN/LAN/digital I/O port, optional GPIB/analog & RS232 | 1 U |
| IT-M3901D-10-170 | 10V | 170A | 1700W | 0.001V/0.01A | ≤0.03% + 0.03%FS / ≤0.1% + 0.1%FS | USB/CAN/LAN/digital I/O port, optional GPIB/analog & RS232 | 1 U |
| IT-M3906D-500-36 | 500V | 36A | 6kW | 0.01V/0.001A | ≤0.03% + 0.03%FS / ≤0.1% + 0.1%FS | USB/CAN/LAN/digital I/O port, optional GPIB/analog & RS232 | 1 U |
| IT-M3904D-500-24 | 500V | 24A | 4kW | 0.01V/0.001A | ≤0.03% + 0.03%FS / ≤0.1% + 0.1%FS | USB/CAN/LAN/digital I/O port, optional GPIB/analog & RS232 | 1 U |
| IT-M3902D-500-12 | 500V | 12A | 2kW | 0.01V/0.001A | ≤0.03% + 0.03%FS / ≤0.1% + 0.1%FS | USB/CAN/LAN/digital I/O port, optional GPIB/analog & RS232 | 1 U |
| IT-M3912D-300-120 | 300V | 120A | 12kW | 0.01V/0.001A | ≤0.03% + 0.03%FS / ≤0.1% + 0.1%FS | USB/CAN/LAN/digital I/O port, optional GPIB/analog & RS232 | 2 U |
| IT-M3906D-300-60 | 300V | 60A | 6kW | 0.01V/0.001A | ≤0.03% + 0.03%FS / ≤0.1% + 0.1%FS | USB/CAN/LAN/digital I/O port, optional GPIB/analog & RS232 | 1 U |
| IT-M3904D-300-40 | 300V | 40A | 4kW | 0.01V/0.001A | ≤0.03% + 0.03%FS / ≤0.1% + 0.1%FS | USB/CAN/LAN/digital I/O port, optional GPIB/analog & RS232 | 1 U |
| IT-M3902D-300-20 | 300V | 20A | 2kW | 0.01V/0.001A | ≤0.03% + 0.03%FS / ≤0.1% + 0.1%FS | USB/CAN/LAN/digital I/O port, optional GPIB/analog & RS232 | 1 U |
| IT-M3912D-80-240 | 80V | 240A | 12kW | 0.001V/0.01A | ≤0.03% + 0.03%FS / ≤0.1% + 0.1%FS | USB/CAN/LAN/digital I/O port, optional GPIB/analog & RS232 | 2 U |
| IT-M3906D-80-120 | 80V | 120A | 6kW | 0.001V/0.01A | ≤0.03% + 0.03%FS / ≤0.1% + 0.1%FS | USB/CAN/LAN/digital I/O port, optional GPIB/analog & RS232 | 1 U |
| IT-M3904D-80-80 | 80V | 80A | 4kW | 0.001V/0.01A | ≤0.03% + 0.03%FS / ≤0.1% + 0.1%FS | USB/CAN/LAN/digital I/O port, optional GPIB/analog & RS232 | 1 U |
| IT-M3902D-80-40 | 80V | 40A | 2kW | 0.001V/0.01A | ≤0.03% + 0.03%FS / ≤0.1% + 0.1%FS | USB/CAN/LAN/digital I/O port, optional GPIB/analog & RS232 | 1 U |
| IT-M3912D-32-480 | 32V | 480A | 12kW | 0.001V/0.01A | ≤0.03% + 0.03%FS / ≤0.1% + 0.1%FS | USB/CAN/LAN/digital I/O port, optional GPIB/analog & RS232 | 2 U |
| IT-M3906D-32-240 | 32V | 240A | 6kW | 0.001V/0.01A | ≤0.03% + 0.03%FS / ≤0.1% + 0.1%FS | USB/CAN/LAN/digital I/O port, optional GPIB/analog & RS232 | 1 U |
| IT-M3904D-32-160 | 32V | 160A | 4kW | 0.001V/0.01A | ≤0.03% + 0.03%FS / ≤0.1% + 0.1%FS | USB/CAN/LAN/digital I/O port, optional GPIB/analog & RS232 | 1 U |
| IT-M3902D-32-80 | 32V | 80A | 2kW | 0.001V/0.01A | ≤0.03% + 0.03%FS / ≤0.1% + 0.1%FS | USB/CAN/LAN/digital I/O port, optional GPIB/analog & RS232 | 1 U |
| IT-M3912D-1500-24 | 1500V | 24A | 12kW | 0.01V/0.001A | ≤0.03% + 0.03%FS / ≤0.1% + 0.1%FS | USB/CAN/LAN/digital I/O port, optional GPIB/analog & RS232 | 2 U |
| IT-M3906D-1500-12 | 1500V | 12A | 6kW | 0.01V/0.001A | ≤0.03% + 0.03%FS / ≤0.1% + 0.1%FS | USB/CAN/LAN/digital I/O port, optional GPIB/analog & RS232 | 1 U |
| IT-M3912D-800-48 | 800V | 48A | 12kW | 0.01V/0.001A | ≤0.03% + 0.03%FS / ≤0.1% + 0.1%FS | USB/CAN/LAN/digital I/O port, optional GPIB/analog & RS232 | 2 U |
| IT-M3906D-800-24 | 800V | 24A | 6kW | 0.01V/0.001A | ≤0.03% + 0.03%FS / ≤0.1% + 0.1%FS | USB/CAN/LAN/digital I/O port, optional GPIB/analog & RS232 | 1 U |
| IT-M3904D-800-16 | 800V | 16A | 4kW | 0.01V/0.001A | ≤0.03% + 0.03%FS / ≤0.1% + 0.1%FS | USB/CAN/LAN/digital I/O port, optional GPIB/analog & RS232 | 1 U |
| IT-M3902D-800-8 | 800V | 8A | 2kW | 0.01V/0.001A | ≤0.03% + 0.03%FS / ≤0.1% + 0.1%FS | USB/CAN/LAN/digital I/O port, optional GPIB/analog & RS232 | 1 U |
| IT-M3912D-500-72 | 500V | 72A | 12kW | 0.01V/0.001A | ≤0.03% + 0.03%FS / ≤0.1% + 0.1%FS | USB/CAN/LAN/digital I/O port, optional GPIB/analog & RS232 | 2 U |
Product Features
♦ Compact design,power up to 6kW in 1U space, power up to12kW in 2U space
♦ Voltage range: 10-1500V
♦ Current range:8A~1020A
♦ Power range:1700W~12kW
♦ Wide range of output design, one unit can be used as multiple power supplies
♦ With simple master/slave parallel connection, expand power while maintaining performance*1
♦ CC/CV priority
♦ Adjustable output impedance
♦ Built-in function generator, support arbitrary-waveform generating
♦ List function, up to 200 steps can be set
♦ Support multiple working modes, adjustable rise and fall time
♦ The front panel supports the insertion of USB storage devices to meet the import of List files/Export, data logging functions, etc.
♦ Standard build-in USB/CAN/LAN/digital IO communication interface, optional GPIB/analog & RS232                   *1>6 devices in parallel, please contact ITECH for details
Functions and Advantages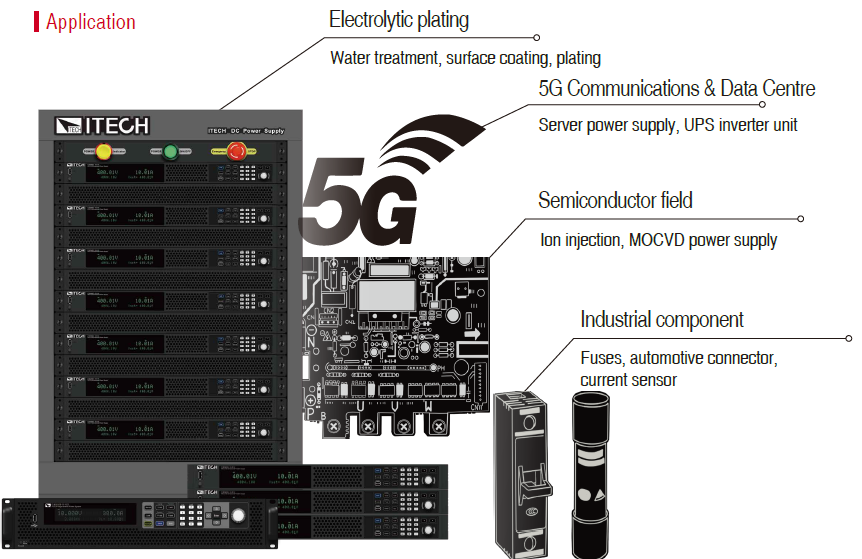 High power density, compact design
ITECH has always adhered to the design concept of high power density to help users optimize the test solutions. The IT-M3900D series adopts a compact structure design to effectively save rack space, and provide up to 6kW power output in a 1U chassis, up to 12kW power output in a 2U chassis, which makes the entire portfolio of ITECH high power density series more complete and comprehensive.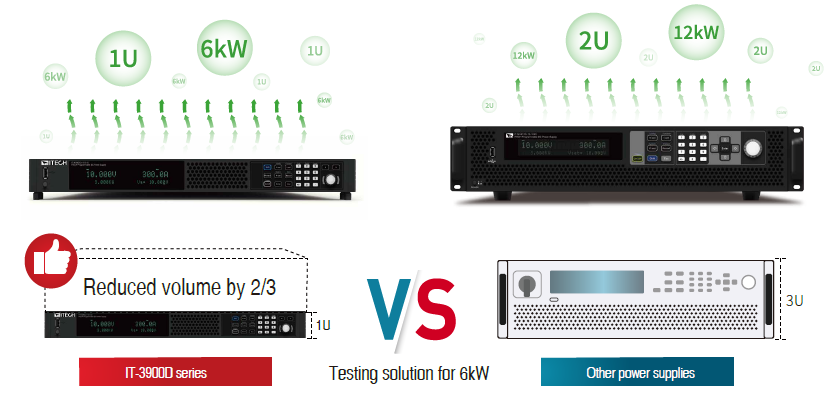 Wide range output
There are 25 models included in IT-M3900C series. The output voltage ranges from 10V to 1500V and the maximum output current of a single unit can reach 1020A. The wide-range output design provides more voltage and current combinations than conventional fixed-range output DC power supplies, which is more flexible. Just a single unit can cover a wide range of applications which makes it easy to build power  systems and largely save room for you at the same time.

CC&CV priority function
CC/CV priority can continue to help users solve various severe problems in long-term test applications to make applications that require high-speed power or non-overshoot more flexible.The CC&CV priority function of IT-M3900D allows the user to select the response speed and the loop working mode of the CC/CV loop to determine whether the output is high-speed voltage mode or non-overshoot current mode,
which is suitable for high-power integrated circuit testing, charging and discharging testing, power transient simulation and characterization of automotive electronics, etc.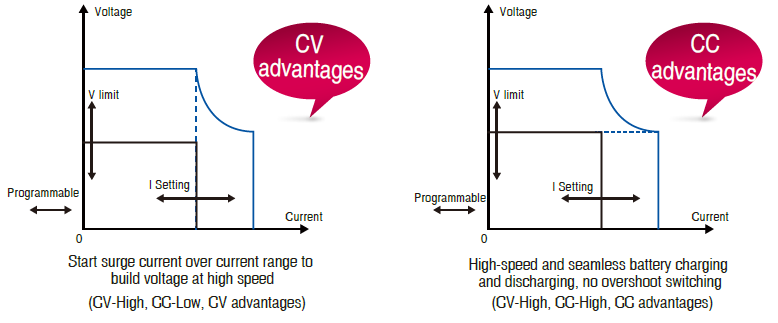 High efficiency parallel connection technology
Considering the user's convenience and versatility , IT-M3900d can use master/slave control mode to parallel 6 units or more. Meanwhile ITECH fiber optic parallel technology fully solve the problems of slow speed and poor accuracy of traditional parallel methods. It is suitable for calibration and measurement, R&D lab, production line and ATE test.