FEATURES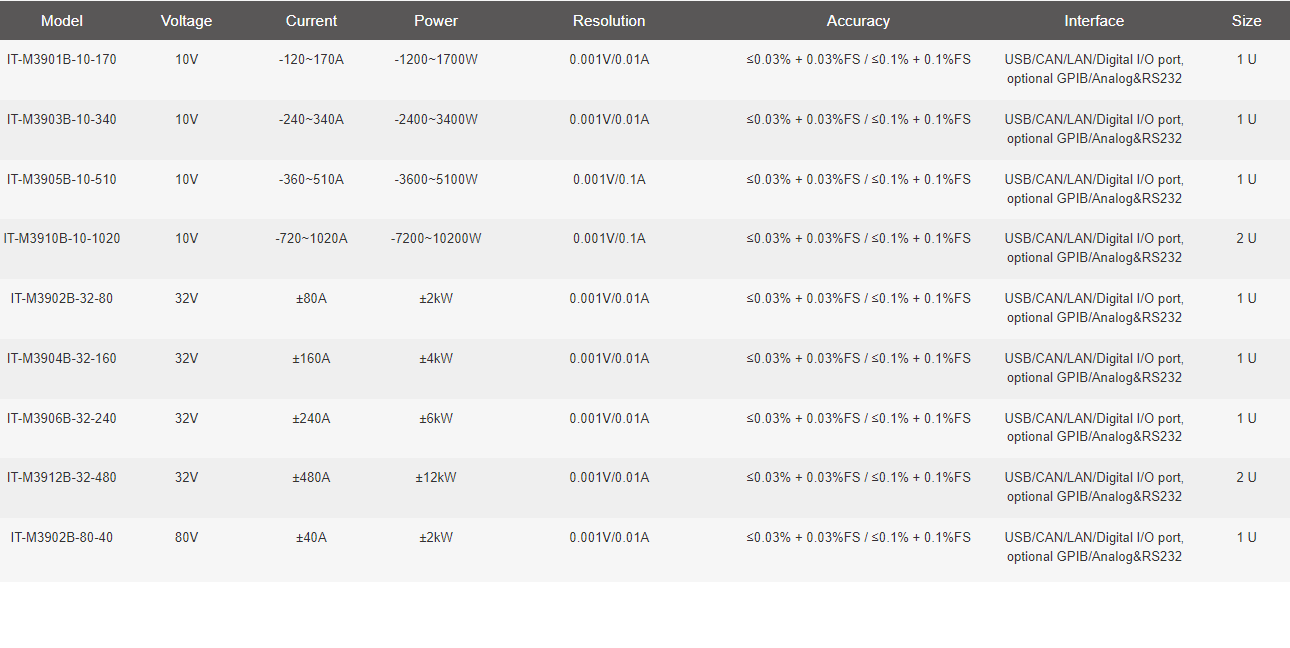 Product Features
♦ 2 in 1 unit – a bidirectional power supply and a regenerative load
♦ One button switch between source and load on front panel
♦ Compact design, 1U@6kW, 2U@12kW
♦ Voltage range: 10~1500V
♦ Current range: -720A~1020A
♦ Power range: ±12kW
♦ Bidirectional energy flow between the DUT and the grid, current seamless switching
♦ Master/slave parallel connection with parallel technology – keep good performance while power extension*1
♦ Efficient power regeneration –  reduce cost of electricity and cooling
♦ CC/CV priority
♦ Adjustable output impedance
♦ Battery charge and discharge test
♦ Battery simulation
♦ Partial pre-compliant with LV123, LV148, DIN40839,ISO-16750-2, SAEJ1113-11,LV124 and ISO21848 automotive testing standards
♦ Support solar panel I-V curves simulation*2
♦ Slope of voltage, current and power is settable
♦ Simulation of dynamic driving conditions, up to 10 million points
♦ 8 operation modes under Source mode:CC/CV/CW/CR/CC+CV/CV+CR/CR+CC/CC+CV+CW+CR
Multiple protection:
♦ OVP / ±OCP / ±OPP / OTP /voltage transient drop protection/anti-islanding/power grid detection/pre-charge
♦ Built-in USB/CAN/LAN/digital IO interfaces, Optional GPIB/Analog&RS232
*1. If parallel connection >6 units, pls. contact ITECH for details
*2. Not available for 10V models
---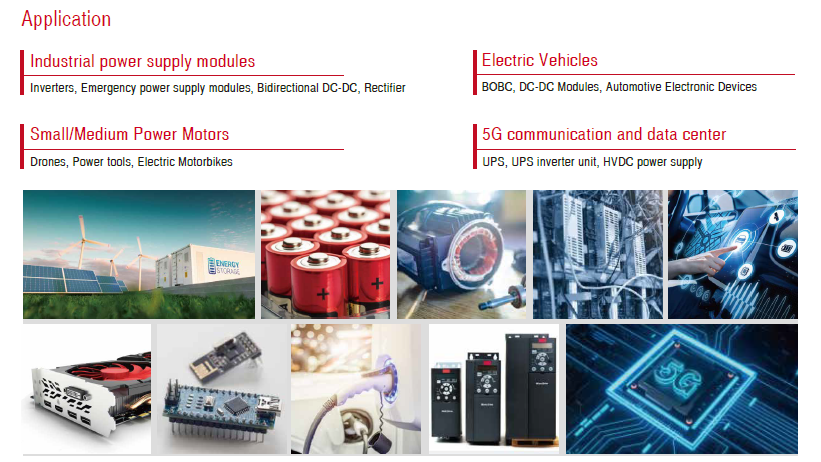 Functions and Advantages
One button switch, bidirectional power & Regenerative load
Different from other bidirectional power supplies, IT-M3900B series is a regenerative power system
which combines two devices into a 1U unit. It is both a bidirectional DC power supply and also a regenerative DC electronic load. You can switch between Source and Load with one button on the front panel.IT-M3900B not only saves space and equipment purchasing cost for you, but also enables you to connect DUT easily. It can switch seamlessly between source and sink mode fast and continuously, which avoids voltage or current overshoot effectively. IT-M3900B can be well applied to battery test, cell packaging equipment test, battery protection board test, etc.
Power regenerative and eco-friendly
With the power regeneration function, IT3900B can feed back up to 95% power instead of consuming it as heat. It not only save your cost of electricity, HVAC and cooling infrastructure, but also help to reduce carbon emission and impact on the environment. In addition, IT3900B has the function of automatic grid detection, which can detect phase voltage and frequency in real time and synchronizes with the grid to make energy regeneration automatic and safe.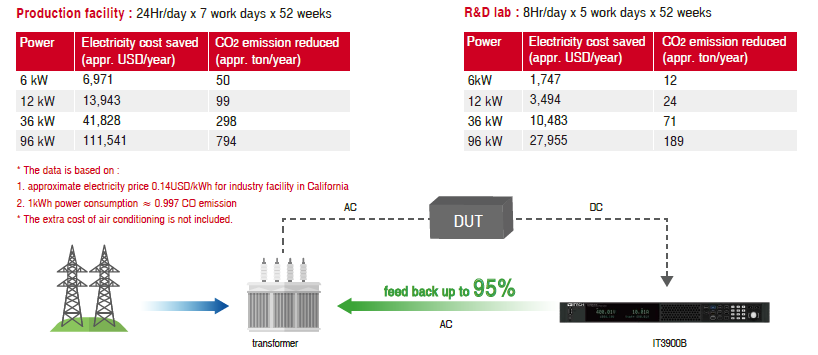 Multiple operation modes
IT-M3900B provide CC/CV/CW/CR modes under source/load mode.

IT-M3900B also provide CC+CR/CV+CR/CV+CC/CC+CV+CW+CR four complex modes under Load mode, adapt to multiple applications.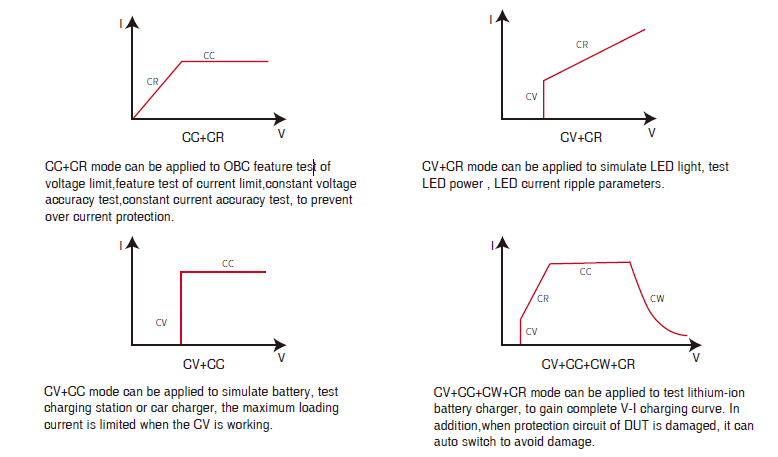 Battery simulation function
IT-M3900B unique bidirectional design and variable output impedence makes it easy for the users  to set voltage/capacity/internal resistance/SOC quickly to define battery matrix quickly from the front panel, to simulate the charge/discharge characteristics of battery and assist with other tests. ITECH provides optional BSS2000 battery simulation software, then users can self-define the battery curve by setting common parameters, also can set battery initial capacity to verify the DUT characteristics under different battery
status. Meanwhile, BSS2000 supports importing matlab battery matrix or CSV. file with battery charging and discharging curve, so as to simulate real battery charge and discharge characteristics.