Product Features
FEATURE
Battery simulation range: 2250V / 1152kW
Support multi-channel battery module status simulation
Bidirectional regenerative battery simulator, regenerative efficiency up to 95%
Seamless switching between battery charging and discharging mode
Support user-defined battery characteristic curve import
Support quick set up of battery characteristic curves by input common parameters
Support .mat file import function *2
BMS protocol self-defined function, realize CAN bus communication with the external control unit
Built-in various battery types (include LAB,Li-on,LMO, LNMCO, LNMCO&LMO,LFP,LTO and NiMH .) *1
Battery protection parameter setting function
Battery output initial state of charge setting function
Ideal data report function
Battery curve preview and real-time curve display function
Flexible expansion by parallel for larger current/power simulation request
Support up to 20 channels battery simulation *3
*1 BSS2000 basic version software is used to simulate lead-acid and lithium-ion batteries.
*2 BSS2000 Pro version and BSS2000M Multi-channel version
*3 BSS2000M
Functions and Advantages
Applications

 Common battery parameters setting and function simulation
By combined various types of battery modelling and high-speed algorithms, BSS2000 Basic & BSS2000 Pro Battery Simulation Software provide the user with real-time battery curve simulation function. No need to know the specific internal characteristics of the battery, the user only needs to select the battery type and the battery characteristic curve can be generated easily by setting a few basic parameters, parameters including full voltage, empty voltage, rated capacity, serial qty, parallel qty and battery internal resistance, etc. Thanks to the strong support of ITECH hardware, the battery simulator can simulate up to 1152kW battery packs, covering the test requests of solar PV ,energy storage, EV and other high-power fields.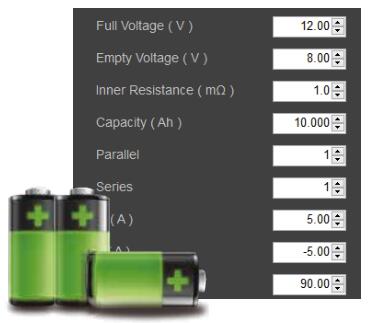 User-defined battery characteristic curve
BSS2000 / BSS2000 Pro Battery Simulation Software provides the battery curve simulation function by Importing Data in ARB to meet the needs of various simulation requests. Users can import the measured battery charge and discharge data in a csv file to simulate the battery charge and discharge characteristic curve. This function is not only suitable for the simulation of conventional batteries, but also for the simulation of some special batteries or novel batteries.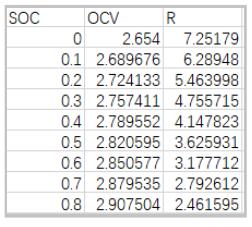 Initial capacity setting function
The BSS2000/BSS2000 Pro battery simulator allows the user to set the initial capacity of the battery to study the startup characteristics or energy management characteristics of DUT when the battery is fully charged or depleted, without the need to perform real charging and discharging, and improve test efficiency.