FEATURES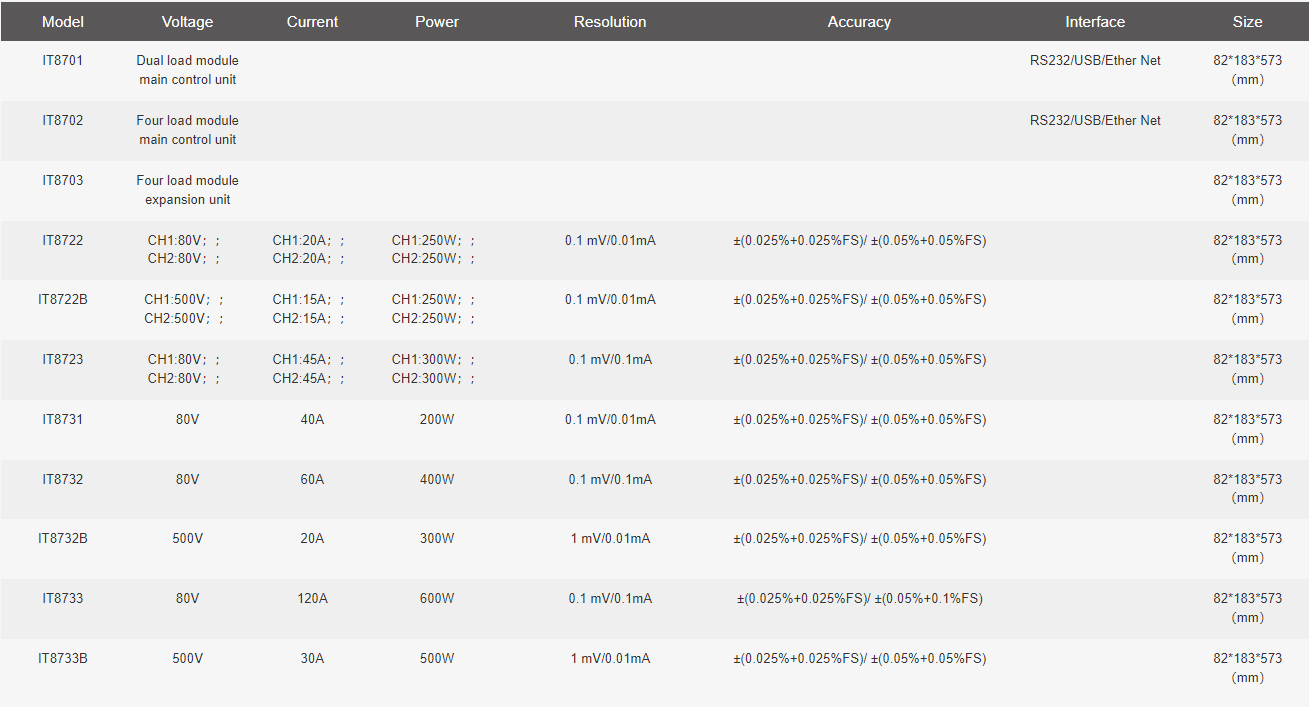 Product Features
♦ Removable modules for  easy system cofigurability
♦ Dual-channel module can display each channel information simultaneously without switching
♦ Single frame up to 8 channels, extended frame up to 16 channels
♦ Dynamic power distribution function for dual channels,save your cost
♦ Measurement resolution: 0.1mV/0.01mA
♦ Measure short-circuit peak current value and voltage value
♦ Measurement speed for voltage, current Up to 50KHZ
♦ Adjustable current rising / falling slope
♦ Auto-test function
♦ Simulate various waveforms with load under List mode
♦ Up to 25KHz dynamic mode
♦ Automatic test function can automatically determine whether the test results have exceeded the set specifications
♦ Simultaneously perform multiple sets of electronic load modules
♦ OVP / OCP / OPP / OTP / anti-reverse protection function
♦ Built-in Ether Net / USB / RS232 communication interface, support SCPI protocol
Functions and Advantages
Freely configurable modular system architecture
IT8700 series programmable DC electronic load adopts removable modules design, users can freely choose according to requirements. Each load modules and main control module unit has high-performance microprocessors. They use parallel architecture, so they are with high test speed. The load modules are controlled synchronously by the system, and the power supply with multiple outputs can also be tested synchronously.
---
Dynamic power distribution function
IT8722 electronic load module has dynamic power distribution function,that means within 300W,any channel which power over 50W and less than 250W,the power can be distribution freely,one module can be used as multiple standard modules.
---
Auto-test function    
This function can be applied in the automated production test, users can set measurement mode and pull load value of each step for panel or PC software, and the upper and lower limits of test parameters, and display whether the test results have exceeded the set specifications.
IT-E31220-OO (Optional)

120A/2m/round terminal, a pair…

IT-E30615-OO (Optional)

60A/1.5m/round terminal, a pai…

IT-E30320-YY (Optional)

30A/2m/Y terminal, a pair of r…

IT-E30312-YY (Optional)

30A/1.2m/Y terminal, a pair of…

USB

For USB port communication

CD (accessory)

With user manual and communica…

AC power cord (accessory)

AC power cord (accessory)

IT-E153 (Optional)

Rack mount kit