| | | | | | | | |
| --- | --- | --- | --- | --- | --- | --- | --- |
| MODEL | VOLTAGE | CURRENT | POWER | RESOLUTION | ACCURACY | INTERFACE | SIZE |
| IT8030-80-900 | 80V | 900A | 30kW | 0.001V/0.1A | ≤0.02%+0.02%FS/≤0.1%+0.1%FS | USB/CAN/LAN/digital I/O port, optional GPIB/analog & RS232 | 6U |
| IT8015-80-450 | 80V | 450A | 15kW | 0.001V/0.01A | ≤0.02%+0.02%FS/≤0.1%+0.1%FS | USB/CAN/LAN/digital I/O port, optional GPIB/analog & RS232 | 3U |
| IT8010-80-300 | 80V | 300A | 10kW | 0.001V/0.01A | ≤0.02%+0.02%FS/≤0.1%+0.1%FS | USB/CAN/LAN/digital I/O port, optional GPIB/analog & RS232 | 3U |
| IT8005-80-150 | 80V | 150A | 5kW | 0.001V/0.01A | ≤0.02%+0.02%FS/≤0.1%+0.1%FS | USB/CAN/LAN/digital I/O port, optional GPIB/analog & RS232 | 3U |
| IT8126-300-1575 | 300V | 1575A | 126kW | 0.01V/0.1A | ≤0.02%+0.02%FS/≤0.1%+0.1%FS | USB/CAN/LAN/digital I/O port, optional GPIB/analog & RS232 | 27U |
| IT8108-300-1350 | 300V | 1350A | 108kW | 0.01V/0.1A | ≤0.02%+0.02%FS/≤0.1%+0.1%FS | USB/CAN/LAN/digital I/O port, optional GPIB/analog & RS232 | 27U |
| IT8090-300-1125 | 300V | 1125A | 90kW | 0.01V/0.1A | ≤0.02%+0.02%FS/≤0.1%+0.1%FS | USB/CAN/LAN/digital I/O port, optional GPIB/analog & RS232 | 27U |
| IT8072-300-900 | 300V | 900A | 72kW | 0.01V/0.1A | ≤0.02%+0.02%FS/≤0.1%+0.1%FS | USB/CAN/LAN/digital I/O port, optional GPIB/analog & RS232 | 15U |
| IT8054-300-675 | 300V | 675A | 54kW | 0.01V/0.1A | ≤0.02%+0.02%FS/≤0.1%+0.1%FS | USB/CAN/LAN/digital I/O port, optional GPIB/analog & RS232 | 15U |
| IT8036-300-450 | 300V | 450A | 36kW | 0.01V/0.01A | ≤0.02%+0.02%FS/≤0.1%+0.1%FS | USB/CAN/LAN/digital I/O port, optional GPIB/analog & RS232 | 6U |
| IT8018-300-225 | 300V | 225A | 18kW | 0.01V/0.01A | ≤0.02%+0.02%FS/≤0.1%+0.1%FS | USB/CAN/LAN/digital I/O port, optional GPIB/analog & RS232 | 3U |
| IT8012-300-150 | 300V | 150A | 12kW | 0.01V/0.01A | ≤0.02%+0.02%FS/≤0.1%+0.1%FS | USB/CAN/LAN/digital I/O port, optional GPIB/analog & RS232 | 3U |
| IT8006-300-75 | 300V | 75A | 6kW | 0.01V/0.01A | ≤0.02%+0.02%FS/≤0.1%+0.1%FS | USB/CAN/LAN/digital I/O port, optional GPIB/analog & RS232 | 3U |
| IT8120-80-2040 | 80V | 2040A | 120kW | 0.001V/0.1A | ≤0.02%+0.02%FS/≤0.1%+0.1%FS | USB/CAN/LAN/digital I/O port, optional GPIB/analog & RS232 | 27U |
| IT8105-80-2040 | 80V | 2040A | 105kW | 0.001V/0.1A | ≤0.02%+0.02%FS/≤0.1%+0.1%FS | USB/CAN/LAN/digital I/O port, optional GPIB/analog & RS232 | 27U |
| IT8090-80-2040 | 80V | 2040A | 90kW | 0.001V/0.1A | ≤0.02%+0.02%FS/≤0.1%+0.1%FS | USB/CAN/LAN/digital I/O port, optional GPIB/analog & RS232 | 27U |
| IT8075-80-2040 | 80V | 2040A | 75kW | 0.001V/0.1A | ≤0.02%+0.02%FS/≤0.1%+0.1%FS | USB/CAN/LAN/digital I/O port, optional GPIB/analog & RS232 | 27U |
| IT8060-80-1800 | 80V | 1800A | 60kW | 0.001V/0.1A | ≤0.02%+0.02%FS/≤0.1%+0.1%FS | USB/CAN/LAN/digital I/O port, optional GPIB/analog & RS232 | 15U |
| IT8045-80-1350 | 80V | 1350A | 45kW | 0.001V/0.1A | ≤0.02%+0.02%FS/≤0.1%+0.1%FS | USB/CAN/LAN/digital I/O port, optional GPIB/analog & RS232 | 15U |
| IT8018-800-75 | 800V | 75A | 18kW | 0.01V/0.01A | ≤0.02%+0.02%FS/≤0.1%+0.1%FS | USB/CAN/LAN/digital I/O port, optional GPIB/analog & RS232 | 3U |
| IT8012-800-50 | 800V | 50A | 12kW | 0.01V/0.01A | ≤0.02%+0.02%FS/≤0.1%+0.1%FS | USB/CAN/LAN/digital I/O port, optional GPIB/analog & RS232 | 3U |
| IT8006-800-25 | 800V | 25A | 6kW | 0.01V/0.001A | ≤0.02%+0.02%FS/≤0.1%+0.1%FS | USB/CAN/LAN/digital I/O port, optional GPIB/analog & RS232 | 3U |
| IT8144-500-960 | 500V | 960A | 144kW | 0.01V/0.1A | ≤0.02%+0.02%FS/≤0.1%+0.1%FS | USB/CAN/LAN/digital I/O port, optional GPIB/analog & RS232 | 27U |
| IT8126-500-840 | 500V | 840A | 126kW | 0.01V/0.1A | ≤0.02%+0.02%FS/≤0.1%+0.1%FS | USB/CAN/LAN/digital I/O port, optional GPIB/analog & RS232 | 27U |
| IT8108-500-720 | 500V | 720A | 108kW | 0.01V/0.1A | ≤0.02%+0.02%FS/≤0.1%+0.1%FS | USB/CAN/LAN/digital I/O port, optional GPIB/analog & RS232 | 27U |
| IT8090-500-600 | 500V | 600A | 90kW | 0.01V/0.1A | ≤0.02%+0.02%FS/≤0.1%+0.1%FS | USB/CAN/LAN/digital I/O port, optional GPIB/analog & RS232 | 27U |
| IT8072-500-480 | 500V | 480A | 72kW | 0.01V/0.01A | ≤0.02%+0.02%FS/≤0.1%+0.1%FS | USB/CAN/LAN/digital I/O port, optional GPIB/analog & RS232 | 15U |
| IT8054-500-360 | 500V | 360A | 54kW | 0.01V/0.01A | ≤0.02%+0.02%FS/≤0.1%+0.1%FS | USB/CAN/LAN/digital I/O port, optional GPIB/analog & RS232 | 15U |
| IT8036-500-240 | 500V | 240A | 36kW | 0.01V/0.01A | ≤0.02%+0.02%FS/≤0.1%+0.1%FS | USB/CAN/LAN/digital I/O port, optional GPIB/analog & RS232 | 6U |
| IT8018-500-120 | 500V | 120A | 18kW | 0.01V/0.01A | ≤0.02%+0.02%FS/≤0.1%+0.1%FS | USB/CAN/LAN/digital I/O port, optional GPIB/analog & RS232 | 3U |
| IT8012-500-80 | 500V | 80A | 12kW | 0.01V/0.01A | ≤0.02%+0.02%FS/≤0.1%+0.1%FS | USB/CAN/LAN/digital I/O port, optional GPIB/analog & RS232 | 3U |
| IT8006-500-40 | 500V | 40A | 6kW | 0.01V/0.001A | ≤0.02%+0.02%FS/≤0.1%+0.1%FS | USB/CAN/LAN/digital I/O port, optional GPIB/analog & RS232 | 3U |
| IT8144-300-1800 | 300V | 1800A | 144kW | 0.01V/0.1A | ≤0.02%+0.02%FS/≤0.1%+0.1%FS | USB/CAN/LAN/digital I/O port, optional GPIB/analog & RS232 | 27U |
| IT8144-1500-320 | 1500V | 320A | 144kW | 0.1V/0.01A | ≤0.02%+0.02%FS/≤0.1%+0.1%FS | USB/CAN/LAN/digital I/O port, optional GPIB/analog & RS232 | 27U |
| IT8126-1500-280 | 1500V | 280A | 126kW | 0.1V/0.01A | ≤0.02%+0.02%FS/≤0.1%+0.1%FS | USB/CAN/LAN/digital I/O port, optional GPIB/analog & RS232 | 27U |
| IT8108-1500-240 | 1500V | 240A | 108kW | 0.1V/0.01A | ≤0.02%+0.02%FS/≤0.1%+0.1%FS | USB/CAN/LAN/digital I/O port, optional GPIB/analog & RS232 | 27U |
| IT8090-1500-200 | 1500V | 200A | 90kW | 0.1V/0.01A | ≤0.02%+0.02%FS/≤0.1%+0.1%FS | USB/CAN/LAN/digital I/O port, optional GPIB/analog & RS232 | 27U |
| IT8072-1500-160 | 1500V | 160A | 72kW | 0.1V/0.01A | ≤0.02%+0.02%FS/≤0.1%+0.1%FS | USB/CAN/LAN/digital I/O port, optional GPIB/analog & RS232 | 15U |
| IT8054-1500-120 | 1500V | 120A | 54kW | 0.1V/0.01A | ≤0.02%+0.02%FS/≤0.1%+0.1%FS | USB/CAN/LAN/digital I/O port, optional GPIB/analog & RS232 | 15U |
| IT8036-1500-80 | 1500V | 80A | 36kW | 0.1V/0.01A | ≤0.02%+0.02%FS/≤0.1%+0.1%FS | USB/CAN/LAN/digital I/O port, optional GPIB/analog & RS232 | 6U |
| IT8018-1500-40 | 1500V | 40A | 18kW | 0.1V/0.001A | ≤0.02%+0.02%FS/≤0.1%+0.1%FS | USB/CAN/LAN/digital I/O port, optional GPIB/analog & RS232 | 3U |
| IT8144-800-600 | 800V | 600A | 144kW | 0.01V/0.1A | ≤0.02%+0.02%FS/≤0.1%+0.1%FS | USB/CAN/LAN/digital I/O port, optional GPIB/analog & RS232 | 27U |
| IT8126-800-525 | 800V | 525A | 126kW | 0.01V/0.1A | ≤0.02%+0.02%FS/≤0.1%+0.1%FS | USB/CAN/LAN/digital I/O port, optional GPIB/analog & RS232 | 27U |
| IT8108-800-450 | 800V | 450A | 108kW | 0.01V/0.01A | ≤0.02%+0.02%FS/≤0.1%+0.1%FS | USB/CAN/LAN/digital I/O port, optional GPIB/analog & RS232 | 27U |
| IT8090-800-375 | 800V | 375A | 90kW | 0.01V/0.01A | ≤0.02%+0.02%FS/≤0.1%+0.1%FS | USB/CAN/LAN/digital I/O port, optional GPIB/analog & RS232 | 27U |
| IT8072-800-300 | 800V | 300A | 72kW | 0.01V/0.01A | ≤0.02%+0.02%FS/≤0.1%+0.1%FS | USB/CAN/LAN/digital I/O port, optional GPIB/analog & RS232 | 15U |
| IT8054-800-225 | 800V | 225A | 54kW | 0.01V/0.01A | ≤0.02%+0.02%FS/≤0.1%+0.1%FS | USB/CAN/LAN/digital I/O port, optional GPIB/analog & RS232 | 15U |
| IT8036-800-150 | 800V | 150A | 36kW | 0.01V/0.01A | ≤0.02%+0.02%FS/≤0.1%+0.1%FS | USB/CAN/LAN/digital I/O port, optional GPIB/analog & RS232 | 6U |
| IT8144-2250-200 | 2250V | 200A | 144kW | 0.1V/0.01A | ≤0.02%+0.02%FS/≤0.1%+0.1%FS | USB/CAN/LAN/digital I/O port, optional GPIB/analog & RS232 | 27U |
| IT8126-2250-175 | 2250V | 175A | 126kW | 0.1V/0.01A | ≤0.02%+0.02%FS/≤0.1%+0.1%FS | USB/CAN/LAN/digital I/O port, optional GPIB/analog & RS232 | 27U |
| IT8108-2250-150 | 2250V | 150A | 108kW | 0.1V/0.01A | ≤0.02%+0.02%FS/≤0.1%+0.1%FS | USB/CAN/LAN/digital I/O port, optional GPIB/analog & RS232 | 27U |
| IT8090-2250-125 | 2250V | 125A | 90kW | 0.1V/0.01A | ≤0.02%+0.02%FS/≤0.1%+0.1%FS | USB/CAN/LAN/digital I/O port, optional GPIB/analog & RS232 | 27U |
| IT8072-2250-100 | 2250V | 100A | 72kW | 0.1V/0.01A | ≤0.02%+0.02%FS/≤0.1%+0.1%FS | USB/CAN/LAN/digital I/O port, optional GPIB/analog & RS232 | 15U |
| IT8054-2250-75 | 2250V | 75A | 54kW | 0.1V/0.01A | ≤0.02%+0.02%FS/≤0.1%+0.1%FS | USB/CAN/LAN/digital I/O port, optional GPIB/analog & RS232 | 15U |
| IT8036-2250-50 | 2250V | 50A | 36kW | 0.1V/0.01A | ≤0.02%+0.02%FS/≤0.1%+0.1%FS | USB/CAN/LAN/digital I/O port, optional GPIB/analog & RS232 | 6U |
| IT8018-2250-25 | 2250V | 25A | 18kW | 0.1V/0.001A | ≤0.02%+0.02%FS/≤0.1%+0.1%FS | USB/CAN/LAN/digital I/O port, optional GPIB/analog & RS232 | 3U |
Product Features
Features
♦ Recover DC energy to local grid with efficiency up to 95%
♦ Stand-alone power up to 144kW, expandable by master-slave parallelling up to 1152kW
♦ Stand-alone input voltage up to 2250V
♦ Stand-alone input current up to 2040A
♦ High power density design provides 18kW in 3U space
♦ Built-in waveform generator, support generating arbitrary waveforms
♦ LIST function, support importing LIST files by USB
♦ Power accumulation function
♦ Battery test function, auto-test function, short circuit test function
♦ With pre-charging function, prevent DC loading current overshoot
♦ Full protection: OVP/OCP/OPP/OTP/UVP, Vsense anti-reverse connection protection, and voltage transient drop protection
♦ Built-in standard USB/CAN/LAN/digital IO interface, and optional
♦ GPIB/Analog&RS232 interfaces
♦ Support SCPI protocol, LabVIEW
♦ Operating mode:CC/CV/CP/CR/CC+CV/CV+CR/CR+CC/CC+CV+CP+CR
*The regenerated power is for local grid purpose, not for public grid purpose
---
Application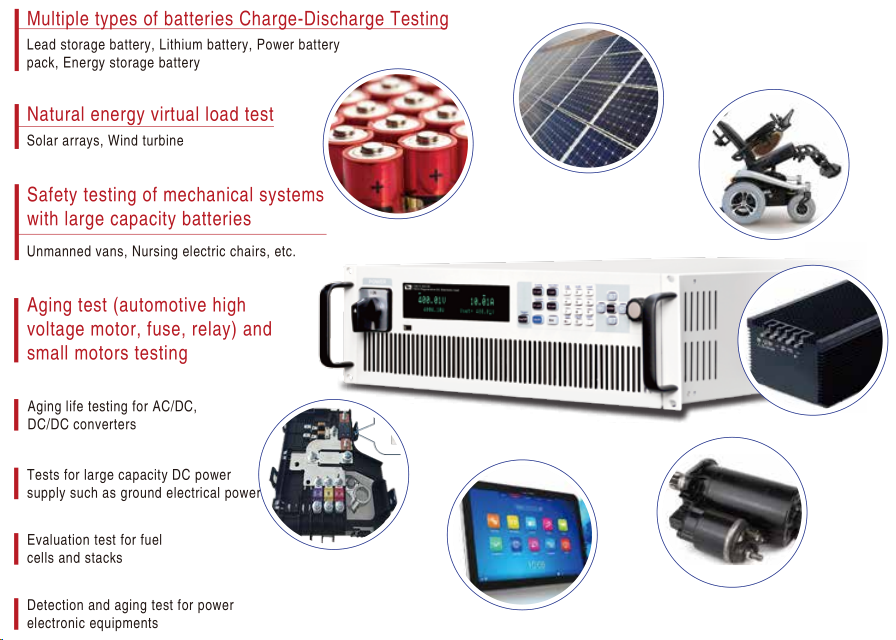 Functions and Advantages
Power regenerative efficiency up to 95%
High energy regenerative efficiency.The IT8000series has a unique energy regenerative function that can regenerate electrical energy and then directly use it in the plant instead of consuming it in the form of heat. Its conversion efficiency can up to 95%, which not only will greatly reduce the user's electricity cost, but also avoid the use of air conditioning or expensive cooling systems.

---
High power density
Conventional electronic loads are not only with high energy consumption, but also with very large size and weight. Energy consumption electronic load with 30KW load is at least 24U, it is difficult to transport and the cost is higher. IT8000 series regenerative DC electronic load adopts high power density design of 18kW in only 3U high. Compared to conventional electronic loads, the size for IT8000 series is decreased by 80% under the same output power.

---
Power accumulation function
IT8000 series regenerative DC electronic load uses the power electronic transformation technology on the premise of completing test power experiment to make output energy of measured power supply regenerative recycled and reused. Through the inside fast sampling of voltage and current, the regenerative power value can be observed on the front panel of IT8000 series, including voltage, frequency and power of each phase, as well as total power, total current regenerative and total historical regenerative power, which makes the energy saving effect much easier. Re-open after power failure, IT8000 series will continue to accumulate the regenerative power value based on the last power off value.
---
List function
IT8000 series regenerative DC electronic load provides list mode, it can complete the complex arbitrary current change mode accurately and fast, and can synchronize with internal or external signals to complete multi-level loading precision test, which greatly save cost for customers. By editing the step value, pulse width and the slope of each step, IT8000 can generate a variety of complex sequences and help users to complete various loading waveforms test. In the CC mode, IT8000 series can set rising and falling speed.

---
Battery test function
IT8000 series regenerative DC electronic load simulate battery discharge test under CC mode, and support settable discharge cut-off conditions, such as cut-off voltage, cut-off capacity and cut-off time. When any of the three conditions are met, the discharge test will be stopped. Moreover, the battery voltage, discharge time and the discharged capacity can be observed during the test, which reflects the reliability of the battery and its remaining life.

---
Patented parallel technology
Advantage:
♦ IT8000 has adopted ITECH parallel technology
♦ All the function and performance will be the same as standalone unit
♦ No need to calibrate after paralleling
♦ Fiber transmission, good for anti-interference
♦ Digital paralleling, fully insulated, good for protecting DUT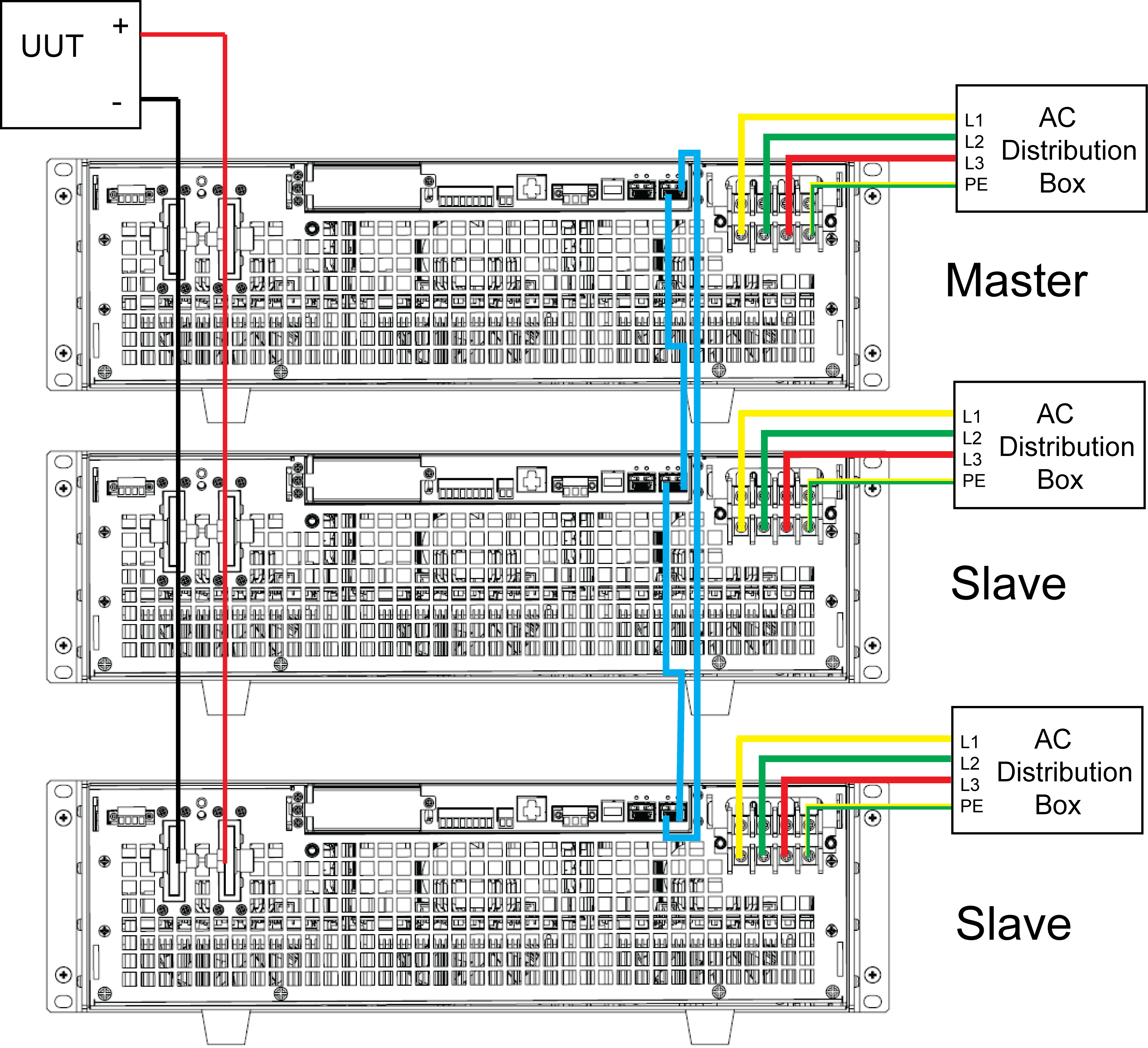 ---
Full protection
IT8000 series regenerative DC electronic load supports automatic detection the grid state . When grid connection is suddenly disconnected or power down, IT8000 will be turned off. IT8000 series can achieve reliable on-grid function and anti-islanding protection function. IT8000 supports monitoring on DC input voltage and frequency, and supports OCP, OVP, OTP, OPP function.
AC power cord (accessory)

AC power cord (accessory)

USB straight wire (accessory)

Used for USB port communicatio…

IT-E168/169(Optional)

Parallel optical fiber kit Sin…

IT-E165A-250/400/500(Optional)…

Anti-reverse connection module…

IT-E167(Optional)

RS232/Analog communication car…

IT-E166(Optional)

GPIB

IT cabinet(Optional)

IT cabinet 15U/27U/37U

AC power cord(Optional)

AC power cord, 5m

IT-E33620-OO(Optional)

360A/2m/Round terminal, a pair…

IT-E32420-OO(Optional)

240A/2m/Round terminal, a pair…

IT-E32410-OO(Optional)

240A/1m/Round terminal, a pair…

IT-E31220-OO(Optional)

120A/2m/Round terminal, a pair…

IT-E30615-OO(Optional)

60A/1.5m/Round terminal, a pai…

IT-E30320-YY(Optional)

30A/2m/Y terminal, a pair of r…

IT-E30312-YY(Optional)

30A/1.2m/Y terminal, a pair of…