The CHECK-LINE CDT-1000HD Hand-Held Digital Tachometer accurately measures rotational speed (RPM) using a visible beam of light. The CDT-1000HD can be up to 24 inches away from the small piece of reflective tape that is affixed to the rotating element.
5 year warrantyThe CDT-1000HD's rugged construction, portability and outstanding features make It an ideal choice for maintenance personnel, machine operators or others in a wide variety of machinery and material handling applications.
A combination Contact & Non-Contact model, the CDT-2000HD, is also available. Click here for data sheet.
Also known as Testo 465, Redpoint A5-1100
 LCD Display
Low Battery Indicator alerts the operator if the batteries are low.
On-Target Indicator confirms that the measurements are reliable.
Memory Indicators are illuminated when the maximum, minimum, average and last readings are recalled to the display for viewing.
 Complete Kit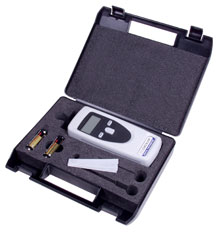 The CDT-1000HD complete kit includes the Tachometer, Reflective Tape, Two (2) AA Batteries (1.5 V), Operating Instruction Manual and Traceable certificate — all supplied in a foam-fitted, hard-plastic Carrying Case.
Item
Descrıptıon

CDT-1000HD

Non-Contact Tachometer Complete kit – Redpoint A5-1100

Accessorıes

ISO-17025-TS

ISO-17025 Certificate for Tachometer or Stroboscope

NISTCAL

NIST Traceable Calibration Certificate (replaces included DAKKS certificate)

CDT-TAPE

10 Strips of 1/2 x 4 inch reflective tape

205TS

Reflective Tab Sheet, 35 1/2″ x 1/2″ Squares – TAB

205TS-4

Qty 4 Reflective Tab Sheet, 35 1/2″ x 1/2″ Squares

BATT-RC4AA-WC

4-pack AA Ni-MH Rechargeable Batteries & Charger Kit

CDT-CC

Carrying Case for CDT-1000HD/2000HD