Communications unlock the full potential of the EDXtreme
One of the foremost reasons for choosing an electronic dynamometer is added functionality. The radio or hardwired options available with the EDXtreme offer the convenience and safety of remote operation. Additionally, data from the dynamometer(s) can be downloaded to a PC via an RS-232 connection for compilation and analysis or to generate hard-copy printouts.
Remote control and radio communications are not new to the Dillon product line. In fact, it is the depth of Dillon's experience in this area that led to meaningful innovations in the design of the EDXtreme and its optional remote Communicator.
Improved radio performance
Unlike the many products on the market today, the EDXtreme radio dynamometer utilizes leading-edge 2.4Ghz radio frequency technology to eliminate common interference issues. This spread spectrum technology will establish and maintain the strongest, most reliable communications.
Dynamic monitoring and control
The optional Communicator is an extremely powerful hand-held remote that can define the function and manage the operation of one or more EDXtreme dynamometers using wired or radio technologies. Through the programmable SOFTKEY interface, one or more Communicators can monitor multiple dynamometers within the same airspace. In multiple-link lifting arrays, the Communicator can display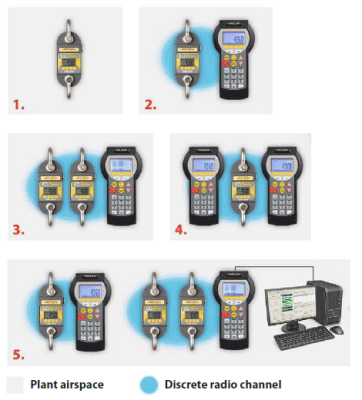 | | Item | Descrıptıon | | |
| --- | --- | --- | --- | --- |
| | AWT05-506447 | EDX-COMM-II Communicator II with radio and backlight | | |
| | AWT05-509199 | Standard Communicator II with radio, display backlight and 105dB audible alarm | | |
| | AWT77-506958 | High-Powered version of the EDX-COMM-II Communicator II with radio and backlight for use with the high power EDX models AWT77-506960 (EDX-10K) and AWT77-506959 (EDX-25K) – not CE Certified | | |